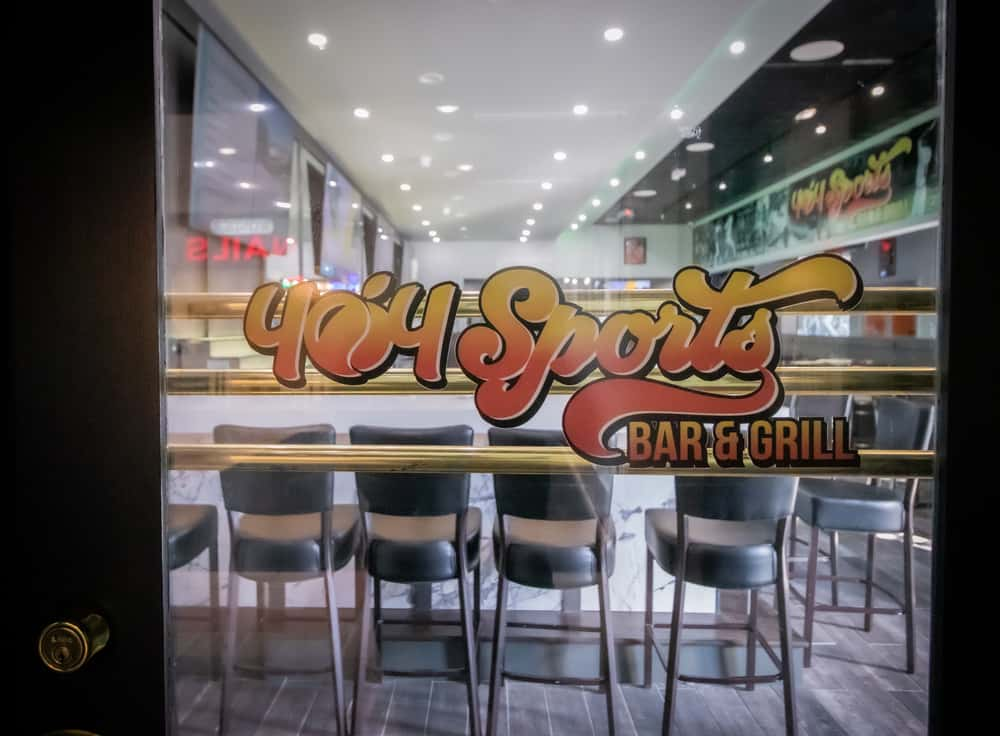 404 Sports Bar & Grill Opens in Morrow, GA's Southlake Mall After a 13 Month Renovation
404 Sports Bar & Grill Opens in Morrow, GA's Southlake Mall After a 13 Month Renovation
FOR IMMEDIATE RELEASE
CONTACT: Brandon Johnson 404-328-8465 Brandon@404sportsbar.com
404 Sports Bar & Grill Opens in Morrow, GA's Southlake Mall After a 13 Month Renovation
Morrow, Georgia … Clayton County, December 12, 2022 – The newly renovated 404 Sports Bar & Grill had a highly attended and festive Grand Opening celebration this past Friday. The restaurant opened on December 5, 2022 and is located at 1000 Southlake Cir, Store 2348 Morrow, GA 30260. Owners revitalized an obsolete & unoccupied unit previously occupied by Ruby Tuesday nearly 15 years ago.
The 404 Sports Bar & Grill offers an Executive Chef "created and curated" menu with scrumptious main courses, appetizers, hand-crafted drinks, and desserts crafted with new state-of-the-art equipment. Meals are prepared for foodie palates and vary from American sports bar fare like Breaded Pickles, Pretzel Bites, Beer Cheese, & Buffalo Wings to the extraordinarily unexpected Fried Red Snapper, Jambalaya Pastas, Lamb Chops, & Italian Flatbreads (Menu: https://www.404sportsbar.com/menu). The venue's ambiance is luxe, offering more than life-sized wall murals of fan favorite sports figures. The environment offers a warm and friendly atmosphere to watch the game or listen to music with friends and family.
Director of Operations Artis "A.D." Brunson, is one of Atlanta's premium restaurant and nightlife Operators. He is a native of Andrews, SC. Since 2010, A.D. has spearheaded the success of some of Atlanta's most popular restaurants and nightclubs. He is a hands-on Operator, who has mastered the hospitality industry from all aspects. He is a dedicated father and champion for the underprivileged and under-served communities.
Executive Chef Justin Vereen, was a longtime Executive Chef for a number of Hilton Hotel properties and has been creating delectable dishes at a variety of venues and restaurants throughout the Carolinas and Georgia. His culinary manifesto for 404 Sports Bar & Grill is to create a contemporary cuisine to match the experience of an upscale sports bar.
Owners Brandon Johnson and Dr. Cindy Bowen-Johnson are aiming to create a customer experience based on what they believe Clayton County needs AND deserves. Johnson says, "…too many times, we commute to northern Fulton & Cobb counties for some of our favorite cuisines. However, we were determined to provide customer delight on the Southside by providing the staple of a Sports Bar, while delivering the food and drink experience of some of our favorite Atlanta restaurants."
As one of the area's newest and brightest dining venues, 404 Sports Bar & Grill is located inside of Southlake Mall and is poised to become a favorite for patrons of all ages and backgrounds.
Venue Photos: https://404sportsbar.zenfoliosite.com/zg/404-sports-bar--grill-1
Website: www.404sportsbar.com Instagram: @404sportsbar
Ribbon Cutting Photos: https://404sportsbar.zenfoliosite.com/zg/404-sports-bar--grill-grand-opening
###